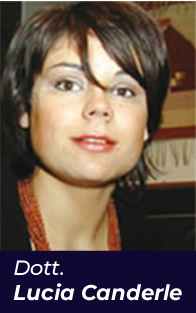 "The idea was born from a need expressed by my daughter Lucia, who is a veterinarian; she asked me to design an elastic and enveloping form of protection for the animals she operated on. She was tired of traditional plasters that pulled her patients' fur and irritated them, and she wondered whether a product could be created that would prevent the animal from licking or biting the surgical area. I came up with the idea of a protective "bodysuit" that was comfortable and would fit the animal perfectly... I came up with
Bendana
."
Maria Luisa Sala Canderle
Creator of Bendana
Loose bandages, gauze ripped off, torn sutures and dressings to be reapplied, irritated animals that are difficult to treat… and above all, metres of expensive bandages wasted.
Bendana solves all of these problems in a single, simple solution: it's an elastic bandage designed to completely cover dressings in a safe and long-lasting way, protecting the surgical area like a second skin while allowing the animal absolute freedom of movement.
Bendana has ties to adjust tightness and length, so it can be used on animals of any size and shape.
It's simple to use, can be adjusted in a few steps and is easy to remove, including during examinations.
It was designed to be a disposable product for veterinarians, but it's strong enough to be washed and sterilised.
It's made of natural materials: at least 90% cotton and between 5 and 10% elastane, so it's soft, breathable and lightweight. Plus, it doesn't stick to fur!
Bendana
is available in a variety of models and sizes depending on the body part to be protected. It can be used for practically all routine surgeries.
It drastically reduces the time required to bandage the animal, and avoids the use of plasters and cones.
It's available in two formats: in a continuous band that can be cut to size and in ready-to-use shaped models.
Veterinary post-operative protection
for pets